Our Management Committee

Luke Reade (President)
Luke is an environmentalist with 15 years experience as a scientist, activist or adviser. He was the Queensland State Manager for ICLEI – Cities for Climate Protection Program. Luke has worked in Australian, European and International consultancy, community, climate and energy research, energy auditing, offshore renewable energy, environmental science and environmental impact assessment. He is a Director of Wild Mountains Trust Environmental Education Centre. Having worked as a sustainability consultant in Brisbane, Ireland and England and as an energy researcher at the University of Edinburgh (Scotland), Luke has broad energy and environmental credentials. He has also twice attended the United Nations Conference of the Parties (COP) on Climate Change with the Irish delegation. 

Ange Reeve
Angie holds a Bachelor of Environmental Engineering and has a PhD in sustainable urban development. Her interests include whole-systems design, integrating behaviour change and technological approaches to efficiency and sustainability, and policy development and education for sustainability. Angie has six years experience working with the Australian based sustainability think-tank The Natural Edge Project, and has participated in a number of projects for all levels of government in Australia and international organisations, including energy efficiency and water efficiency behaviour change programs, curriculum renewal interventions for Australian engineering programs, and demonstrating the potential for economy-wide resource efficiency.

Rob Farago
A Solar Power professional with 25 years engineering experience, Rob graduated with a BE in Computer Systems from the University of Qld in 1988. Since then he has worked on writing software, building the internet and installing renewable energy, sometimes simultaneously. Rob co-founded Local Power, installing solar for over 1000 homes, community groups and businesses, using an innovative and community centred business model.
Annie McCabe
Since completing her Bachelor of Environmental Management (honours) at the University of Queensland, Annie has gone on to further research and is currently completing her PhD on how community energy groups fulfil a number of sustainability goals by building community capital and localising energy system supply chains. Through her honours research, which looked at the phenomenon of domestic solar in Australia from a life-cycle and whole systems perspective, Annie became interested in the power of individuals and groups to influence energy trends on a national scale.    Annie has knowledge and interest around a number of industrial ecology based methods, including life cycle assessment and systems science applications.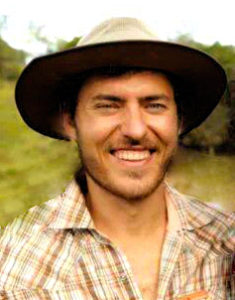 Anthony Broese van Groenou (Secretary)
Anthony has a Bachelor of Environmental Management and Sustainable Development with first-class Honors from the University of Queensland and a Diploma in Business Management.  He recently completed his thesis investigating human capacity building in Community Owned Renewable Energy (CORE) projects, specifically looking at Indigenous ownership on Minjerribah (North Stradbroke Island, QLD).   In 2016 Anthony was Research Assistant for a PhD project focusing on quantifying co-benefits of CORE, visiting and interviewing Australian community owned wind and solar farms in WA, VIC and NSW.  In 2014, he went on a research tour of CORE projects across the Netherlands, Scotland and Denmark, including Samsoe 100% renewable energy Island, exploring various ownership, investment and operational models. Anthony's extensive international work history includes projects in multimedia (film, photography, web design), permaculture, renewable energy systems design, community development work and the arts.