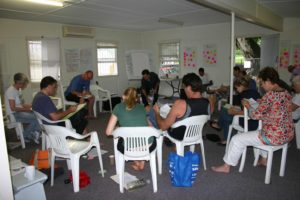 Energetic Communities Association Inc. facilitates community and organisation workshops. Our workshops cover
Community Owned Renewable Energy
Sustainability and Sustainability Action Plans
Permaculture 
Appropriate Technology
Energetic Communities Association Inc. uses Education for Sustainability (EfS) throughout its work.  EfS is a lifelong learning process that leads to an informed and involved citizenry having the creative problem solving skills, scientific and social literacy, and commitment to engage in responsible individual and cooperative actions. These actions will help ensure an environmentally sound and economically prosperous future. Principles of EfS include:
Transformation and change

Education for all and lifelong learning

Systems thinking

Envisioning a better future

Critical thinking and reflection

Participation

Partnerships for change
As such, EfS principles will be used throughout the Sustainability Action Planning process, influencing behaviours of work and school communities, and at home.