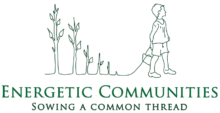 Working for fairer, affordable and sustainable energy for all!
Energetic Communities Association is a not for profit and we gratefully accept donations. We are just setting up a secure auto donations systems. But in the meantime if you would like to make a direct bank deposit email us at core@energeticcommunities.org.au for our bank account details.


Donate via changing to CoPower
Did you know if you sign up to CoPower for your energy you can give us a $50 donation at no cost to yourself and earn $50 credit for your own account by using our account number as the referral in your sign up? They also give great member discounts. Since Enova folded, as the preferred green energy supplier they have been advising customers to move to Energy Locals and Co-Power cooperatively manage a portion of Energy Locals power supply. If you are interested in this deal please email us so we can record who is signing up with the account number we'll then provide you the reference number for getting the credit.
**Those please note we do want you to check what power deals work best for you. This can be done by going to the Energy Made Easy website – which is a government website where there is no agenda to sell you anything (you will not have any energy providers follow you up to try and get you to join) and you can put in your energy bill and see a comparison of different costs across companies you could move to in your area and also get advice about whether you should be thinking about signing up to a time of use plan.